0
My garden has trees, lots of tall established trees that were there long before my house was built. The largest is an evergreen laurel oak with an impressive 116 inches diameter at chest height, which typically means around 4 feet above the ground. A sweetgum and a walnut tree anchor the other side of the yard. In addition to the native trees, a southern magnolia, a mature "Natchez" crepe myrtle and a struggling red "October Glory" maple share the space.
I love the trees and the birds they attract but, honestly, the trees are encroaching on my gardening space. Planting near a tree trunk means planting in a low-light area, with dry soil and root competition, while planting closer to the edge of the drip line means the opposite. So I had to learn how to use the space within their expanding drip lines to grow plants, such as drought tolerant ferns, that thrive or survive under trees.
Native woodland plants are adapted to grow under trees in shade, so they are a natural choice for planting under evergreen trees that shade the soil below them year round.
Southern Shield Fern (Thelypteris kunthii), a native drought tolerant plant, is a good choice. In a humid place or in seasons with a lot of rain, it forms large clumps, which over time develop into a solid mass. It survives dry spells without additional watering by drawing on food stored in its fleshy roots (rhizomes).
Native Christmas Fern (Polystichum acrostichoides) is another good candidate. This fern forms dense, defined clumps. The Christmas fern needs moist soil and shade, but it will tolerate morning sun.
Autumn fern (Dryopteris erythrosora) and holly fern (Cyrtomium falcatum) are non-native clumping ferns that do not propagate. They tolerate dry spells but look best when planted in moist or irrigated soil.
I also like flowering plants. Two reliable, shade-loving, spring-flowering perennials that bloom in full shade can be planted under any tree, deciduous or evergreen. Lenten roses (also called hellebores) and Spanish hyacinths (Hispanic Hyacinthoides) bloom in February and March respectively.
"Tete-a-Tete", a popular miniature daffodil, blooms in partial shade under evergreen trees. I have had them under my laurel oak for about 10 years. Almost any other southern adapted daffodil cultivar can be planted under deciduous trees, even those like river birch with thick, fibrous roots near the soil surface.
Susan with black eyes "Goldsturm" (Rudbeckia fulgida var. sullivantii) and "Black and Blue" salvia (Salvia guaranitica) will flower in a sunny location under the deciduous trees. "Goldsturm" will flower later (August instead of July) and not as vigorously as in full sun or partial sun. "Black and Blue" Salvia needs moist to medium soil, while Black-eyed Susan is a better choice for medium to dry locations.
Finally, here are three suggestions for homeowners who want simplicity. Vinca major (also the botanical name) or greater periwinkle is a fast growing vine that forms a dense mat under a large tree relatively quickly, starting with one plant per square meter. Vinca major should not be planted next to a natural wooded area due to the risk of leakage.
Mondo Grass (Ophiopogon japonicus) and the creeping water lily (Liriope spicata) are shade tolerant ground covers that work well under trees. Mondo grass has narrower leaves and a finer texture than water lily. Dwarf varieties of mondo grass, although more expensive than full-sized ones, will eventually fill in to look like a dark green lawn.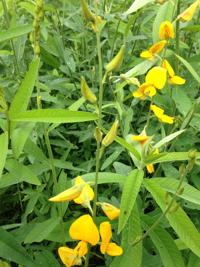 When planting under established trees, a cobra head weeder is a useful tool for removing fine tree roots from a planting hole. Compost should be added to all plants, so that the soil retains moisture while new plants take hold.
George Schenk, author of "The Complete Shade Gardener" (Houghton Mifflin, 1984) has a chapter on establishing plants under tall trees. Thriftbooks calls this book "one of the 'great gardening books' of the century." Schenk gardened in New York City, so his list of recommended plants should be compared to a Southern gardening resource, such as "The New Southern Living Gardening Book" (Oxmoor Press, 2015).
Although lawn grasses do not grow well under established trees, there are many other plants that will adapt to this unique environment.
Anthony keinath is professor of plant pathology at the Clemson Coastal Research & Education Center in Charleston. His expertise is in vegetable diseases. He is also an avid gardener. Contact him at [email protected]