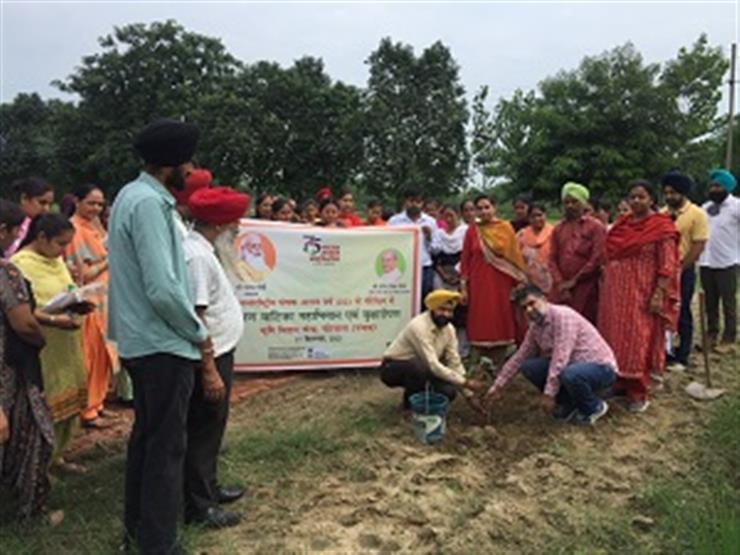 Krishi Vigyan Kendra, Patiala organizes a campaign on Nutri-Garden and tree planting
PATIALA: Krishi Vigyan Kendra, Patiala in association with IFFCO, Patiala today organized a campaign on Nutri-Garden and tree planting. This campaign was organized to mark the International Year of Millet. In this event, more than 100 farmers participated.
Dr Vipan Kumar Rampal, Deputy Director (Trg.), KVK, Patiala, welcomed guests and delivered keynote address on the role of plantations in sustainable agriculture and rural livelihoods. Ch. Bahadur Singh, State Director, IFFCO spoke about IFFCO's activities for the welfare of farmers. He stressed the importance of organizing such events to sensitize the rural masses to millets. Dr Rachna Singla, Assistant Professor (Horticulture), spoke about nutritional gardening and mushroom cultivation for family nutrition security. Dr. Rajni Goel, Associate Professor (Food Sciences) spoke about the scope of food processing. Dr. Gurupdesh Kaur, Associate Professor (Home Sciences) gave a lecture on nutri-cereals and their role in human health. Participants attended the online nutri-mega enclave hosted by ICAR-IIMR-Hyderabad. Dr Hardeep Singh Sabhikhi, Assistant Professor (Plant Pathology) gave a lecture on the perspectives of beekeeping. The webcast of the ICAR New Delhi program was well attended by the attendees. Vegetable seed kits and fruit plants were distributed to farmers during this campaign. A millets quiz contest was also held at this event and quiz winners Kulwinder Kaur (vill. Inderpura), Gurdeep Kaur (vill. Panaudia), Navpreet Kaur (Nabha), Sandeep Kaur (vill. Mangewal) & Charanjit Kaur (vill. Kallarmajri) received trophies.