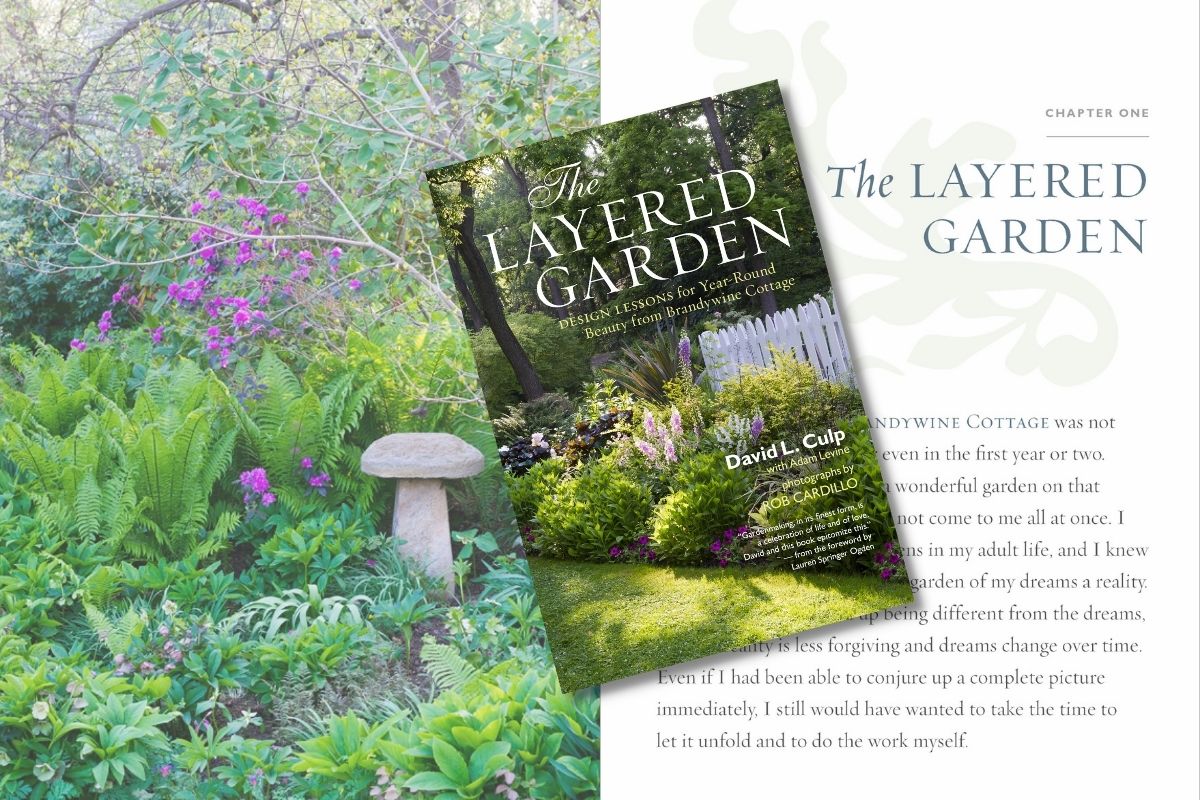 The Layered Garden – Toronto Botanical Garden
DESIGN LESSONS for year-round beauty from Brandywine Cottage
Reviewed by Lorraine Hunter
We all want a beautiful, textured and colorful garden all year round – one in which the plantings are carefully orchestrated to provide a succession of eye-catching layers from early spring through late fall and early winter.
Using his own garden at Brandywine Cottage, famous garden writer and lecturer David Culp has perfected this approach to planting and tells us exactly how to do the same in our own gardens. A wood plantation can start with a rich tapestry of ancient daffodils and hellebores, switch to a mix of native ferns and wildflowers, and end the season with a jewel-like mix of shade-loving Asian perennials.
I was fortunate enough to visit David's Garden in Downingtown, Pa a few years ago and remember telling him that it had taken several years to achieve the effect he was looking for – a landscape that seemed to have come naturally on its own – exactly where he had placed it.
Superbly illustrated by the photograph by Rob Cardillo, the book explains in detail the concept, design and maintenance of the layered appearance.
The guesthouse is a simple farm house built in the 1790s. Perhaps the most remarkable feature of the garden is a stone ruin – two remaining walls of a stable. What some homebuyers might have seen as an eyesore, Culp saw as a romantic backdrop that many gardeners would kill for. It sets the stage for what can be found in the garden – beautiful combinations of plants from all over the world.
This book offers design inspiration, plant know-how and practical information. It's also a story of the author's vision, his successes and failures, the ever-changing nature of the gardens as well as photos and detailed descriptions of his favorite plants and why, as well as how to maintain them. Full of personal anecdotes, this is a book for anyone who enjoys gardens and gardening, from the complete novice to the more seasoned nature lover. The Layered Garden: DESIGN LESSONS for year-round beauty from Brandywine Cottage, (Wood press.)
Lorraine Hunter is a master gardener, writer and editor. She is the editor of TBG's Trellis Magazine.
BORROW THIS BOOK FROM THE WESTON FAMILY LIBRARY