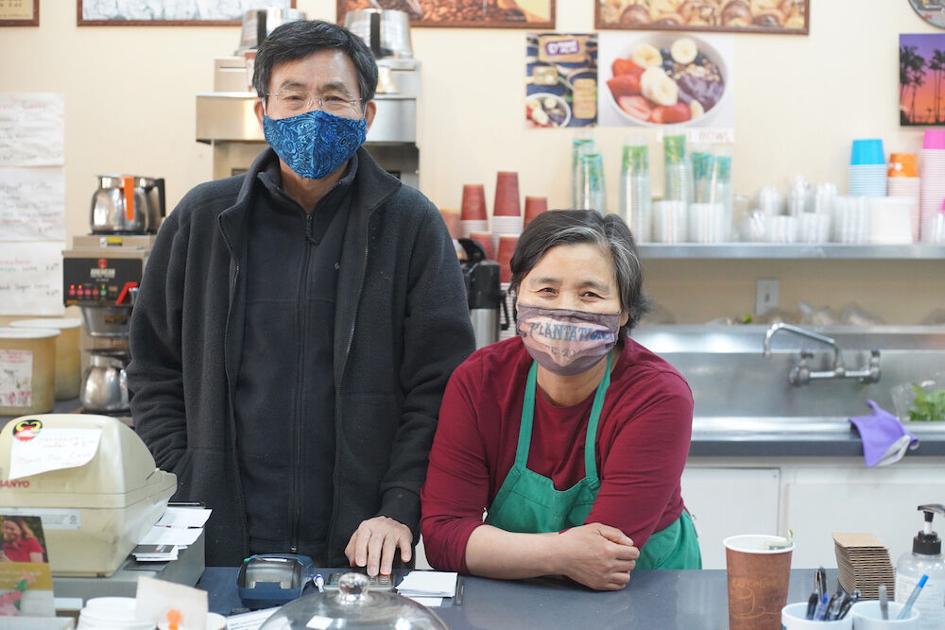 Cheongs Found Home at Plantation Coffee Roastery in San Carlos | Local News
Like all cities in the Bay Area, San Carlos has not been immune to the changes brought about by the ripple effects of the 21st century tech boom. In the quaint downtown corridor on Laurel Street, however, a presence remains constant.
At 4.30am sharp every morning for 21 years, Sue Cheong has turned on the lights of the cozy cafe she runs with her family. By the time she arrives at Plantation Coffee Roastery, there's usually already a group of regulars waiting impatiently outside.
In pre-pandemic times, they helped him set up tables and chairs. Some would walk behind the counter to pour their own drinks and put money directly into the cash register. Others even helped take orders when the store was particularly busy.
Since opening its doors 40 years ago, Plantation Coffee Roastery has been an integral part of the community of San Carlos. Husband-wife duo Sue and Young Cheong, both 66, have been operating the cafe since 2000. The couple's son Brian Cheong, 39, started working full-time in the store in 2017.
"I think mom really does [the regulars] feel comfortable. There are regulars who have been coming to this store for over 20 years, "said Brian Cheong. "There are women who were pregnant when they arrived, and their children are now married. "
Bigger chains like Peet's, Philz, and Starbucks have established themselves in the area over the years, but the cafe's loyalists have remained loyal. Brian estimates that about 80% of business comes from long-time regulars, many of whom are now seniors. This is especially noteworthy considering that the store's coffee offering hasn't changed much since opening day.
There are no trendy seasonal drinks or secret menus filled with colorful, syrupy concoctions. The exterior of the store is pretty plain, so easy to miss if you don't know what to look for.
But if you ever stroll along Laurel Street, you'll smell the secret of roasting: the earthy, rich scent of freshly roasted coffee beans wafting through the air.
At the back of the store is a classic German-made coffee grinder and roaster which was purchased by the original owner of the cafe in 1981. Today, Young Cheong continues the tradition of roasting the coffee beans from the store every morning.
"My favorite part of working in the store is when customers compliment the coffee I make or roast," Young Cheong said in Korean. Young points out that large coffee franchises typically roast their beans in offsite factories, and it's not always clear how fresh the coffee actually is.
"On-site roasting gives the customer the assurance that we have actually roasted [the beans] that day, "added Brian Cheong. "It's fresh coffee. It hasn't been roasted two or more weeks ago.
For longtime regulars, however, it has always been more than coffee. Brian Cheong attributes much of the store's success to his mother, who began working in the store in 1995 under the previous owner. When the owner moved to Hawaii, he asked if Sue wanted to take over.
"I was scared and intimidated because running a business is not the same as working under someone's direction," Sue Cheong said in Korean. "But the regulars and customers pushed for me to take over, and it really gave me comfort and strength."
Owning a business exceeded Sue Cheong's wildest expectations. In 1990, the family immigrated to the United States from South Korea in search of better opportunities for their children.
"Their plan was just to put food on the table for my sister and I," said Brian Cheong.
Young, an accountant by training in Korea, did odd jobs in furniture and fish stores. Sue, originally an office worker, worked two jobs to support the family. She would leave early in the morning to work as a barista, take a short break to pick up the kids from school, then head to her second job as a waiter at a Korean restaurant until 10 or 11 p.m.
The couple made immense sacrifices to pursue the American Dream opportunity for their two children, recalls Brian Cheong. But if you watch them now, you'd be hard pressed to say that they haven't achieved their own American dream.
On a normal day, you'll see Young roasting coffee beans and making drinks, and Brian making bagels and sandwiches. Sue is usually at the counter calling customers and filling orders – and that's where the magic happens.
"People come here and they ask [Sue]. When it's just me and my dad, sometimes they leave, "said Brian Cheong with a laugh. "She knows what they're drinking even more than they sometimes know."
According to Young Cheong, the store has around 200 regular and semi-regular customers whose orders Sue knows by heart. She even memorized the make and model of their cars so their drinks are ready the moment they come in to pay.
"It's the kind of service you don't really see often these days," said Brian Cheong.
When the pandemic hit, these regulars were exactly what kept Plantation Coffee Roastery afloat. Coffee sales only declined by 25% and regulars began to tip even more generously than before. A group of regulars even sold face masks and donated the profits to the store.
"Sue is the glue. She is the foundation. She learns your name, your drink. She says, "Oh, you've got a new grandson or a new baby," said Cliff Kemper, a San Carlos resident who has been a regular at the store for 10 years. "She really wants to have a relationship with her clients, and I think that has a lot to do with why people come back."
Kemper, 63, visits the Plantation Coffee Roastery every morning. Over the past decade, he has become a member of a tight-knit group of around 16 regulars who come together to discuss their lives, share gossip and exchange jokes about local events.
Although people have come and gone and some have even died, Kemper said he made lifelong friends through Plantation Coffee Roastery.
" Everyone knows each other. We have a lot of fun and a lot of us see each other outside of the cafe, "Kemper said. "But we wouldn't have done this if we hadn't met [there]. "
Brian Cheong's life is full of adventure. He holds a master's degree in accounting, worked as a licensed CPA and recently worked overseas in Cambodia as an English teacher. But eventually, life brought him back to the cafe where he spent his teenage years.
"When you are young, you have the ambition to live your own life. The last place I wanted to be was the store, "he said. "But since I was video chatting with my mom and dad and saw the white and gray hair, I knew I had to help them."
In 2017, Brian returned to the United States to work full time at the cafe. Her parents, of course, were not entirely happy with the decision and still encourage her to return to accounting today for fear of overwhelming her.
After a life of adventure and independence, the transition to family life and work as an adult has certainly not been easy. But Brian Cheong said the time he spent with his aging parents was invaluable.
"When my sister and I were in college, high school, university, all they did was work. So you don't really get to know them as individuals, "he said. "But by working with them, I have come to know a little more about who they are as individuals rather than as parents."
Brian Cheong hopes to one day take over Plantation Coffee Roastery and aims to modernize certain operations of the store. But her mother has other plans.
"I will never retire," Sue Cheong said in Korean. "When I think about retiring, I'm going to cry that I can't see the clients. "